From beaches to swimming pools, inflatable floats are some of the most useful outdoor accessories for all ages. 
Check out the 5 coolest floaties on Well Stocked, ranked by our editors! 
#1 Floating Drink Holders 
Inflatable Summer Fun Floating Drink Holders, starting at $9.99 on Well Stocked

These Floating Drink Holders are ranked first...because they're just so darn cute! The whimsical, tropical, and food designs are totally extra, which we live for. And with all the variety, everyone will always know which cup is theirs. 
In addition to being cute, these inflatable drink holders are as fully functional on land as they are on the water. They store away completely flat, making travel easy. 
#2 Swimline UFO Float with Squirt Gun
Swimline Inflatable UFO Chair Pool Float with Squirt Gun, $29.99 on Well Stocked

The Inflatable UFO Chair Pool Float with Squirt Gun has full back and arm support, so you'll feel like you're steering a spaceship in ultimate comfort. A must-have when traveling intergalactically. 
This UFO chair float also features a squirt gun that is fueled endlessly by the water below to delight (or annoy) those lying poolside. 
#3 Intex 2 Person Float with Cooler
Intex River Run II Inflatable 2 Person Pool Tube Float w/ Cooler and Repair Kit, $79.99 on Well Stocked

Double the trouble, double the fun! The Intex 2 Person Float with Cooler is ranked third because you get to raft with your partner in crime. The built-in cooler keeps drinks and food cold making it perfect for floating down a lazy river or alongside a boat. You can also connect it to additional floats to make sure your crew stays together!
Because it's made from heavy-duty vinyl, this float is built stronger than the average river raft. It also comes with a repair kit to patch up any accidents and keep you afloat for seasons to come. 
#4 Intex Rockin' Lounge Float with Cupholder
Intex Inflatable Rockin' Lounge Float with Cupholder, $59.99 on Well Stocked

The Intex Rockin' Lounge Float with Cupholder features an ergonomic design that allows for comfortable sit-up lounging and easy access to your beverage. 
It offers a more structured seat, which makes it easy to read or scroll through your phone while on the water, which is a big plus! And, although it has fewer bells and whistles than the items above, this comes in at number 4 because it offers a user-friendly twist on the classic inflatable floatie.
#5 Intex Suntanner 18-Pocket Float
Intex Suntanner 18-Pocket Beach Lounge Raft with Pillow, $24.99 on Well Stocked

At number five, the Intex Suntanner 18-pocket Inflatable Float is giving off Legally Blonde, Harvard admissions video realness. It can hold up to 18 cups (or anything, for that matter), which makes it perfect for pool parties!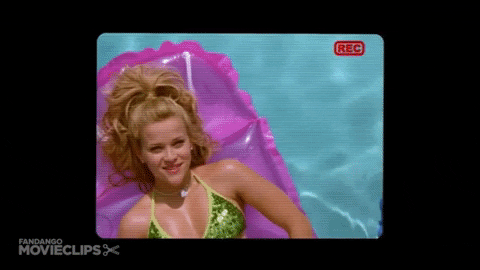 Unlike the Rockin' Lounge Float, the Suntanner lays completely flat like most classic pool lounging floats. It also features an inflatable pillow to make sunbathing easy and keep your head high above water. 
------------
Like what you see? Shop all Pool + Patio on Well Stocked for summer-long fun.